As from today I am delighted to offer a money back guarantee on my daytime services.
In 2015 and 2016 my All Day bookings by far exceeded my evening only ones and this is where I firmly aim my services for the future. To this end I have worked very hard to hone my skills, listening carefully to Couples as well as working on my skills by taking seminars and courses etc.
Because of this and due to incredible feedback from my Couples I am now delighted to offer a money back guarantee on my daytime service.
This guarantee covers my early setup/Master of Services bookings. I already believe that the extra charge I make for this service is incredible value and does more to create The Perfect Wedding than ANY other service. I am so convinced of this that I'd like to make you the following offer:
Book my Early Setup service with Master of Ceremonies options and if, following your wedding day you genuinely don't believe that my service was worth more than you paid for it then I will refund your payment for that service in full. All I ask is that 1. You give me your reasons so that I can evaluate and improve my service and 2. That your reasons be regarding my performance (not issues with the venue, other suppliers etc)*
Over the last few years, speaking to my couples after their weddings has shown me just how personal their weddings have been and how my efforts have been highly instrumental in helping create an amazing atmosphere, involve all guests and provide a unique, fun and memorable occasion.
I work so hard, both on the day and in planning that I know 110%  that the effort I put into helping you have the day of your life is far greater than the price you pay. My ideas and suggestions for involving and entertaining guests, for providing ways to personalise your day to your own personalities, tastes and sense of humour are so effective that I am convinced you will find my service of great value.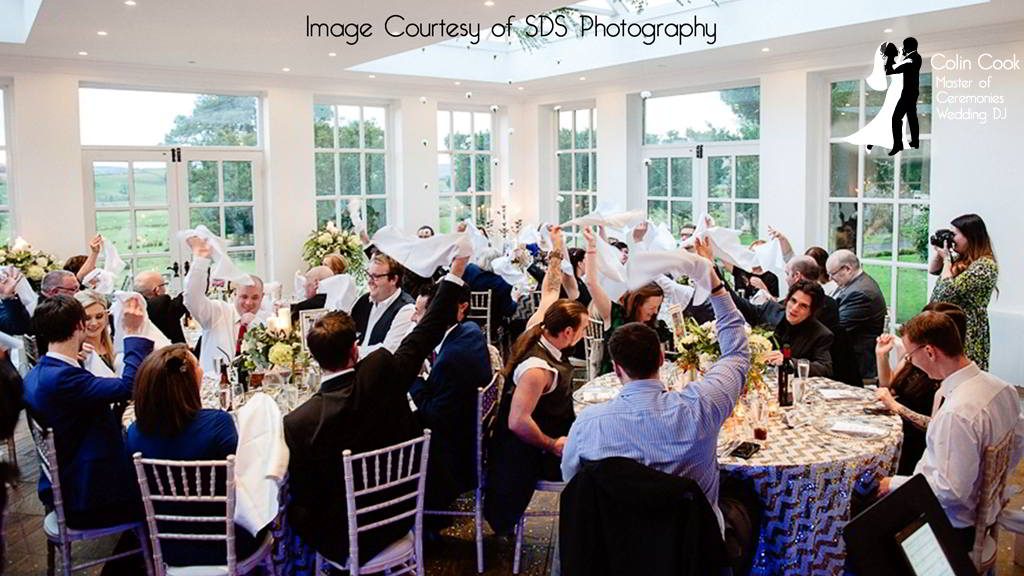 So what does this service include?
For further details on individual services see the relevant pages on my website but generally early setup/Master of Ceremonies will include and or all of the following:
Early setup of Main Sound System (if applicable), Moodlighting, Wedding Monogram etc.
Provision of music for Drinks Reception and/or Wedding Breakfast
Provision of additional sound system if required and radio microphone for speeches
Master of Ceremonies service including planning, personalising of your event, all announcements, liaison with venue and other suppliers and so forth.
Ideas and strategies to involve and include all of your guests
What's the catch? There is no catch, however I would not make this guarantee if I did not feel completely confident that the quality of my service and the value of it completely outweighed the cost involved. Put me to the test – Get in touch now and take the first step to having The Best Wedding Ever!
In the meantime please read what a few other clients (and their guests) have said about my service (see my Client Comments page for more testimonials):
Louise and Tom – Wedding at Arley Hall & Gardens:
Dear Colin & Becky, Many thanks for all your advice, planning, coordinating and support in helping to make our wedding such a special occasion for us.
Amy and Daniel – Brinkburn Priory Wedding:
Dear Colin and Becky. We wanted to say a huge thank you for helping to make our day so special. Colin, from first contacting you nothing was too much trouble. You were a fantastic Master of Ceremonies and I'm certain the day wouldn't have run as smoothly without you. The hours of preparation certainly showed! I've had so many commented from guests about how well chosen the music was, everyone loved the Wedding Circle and final song. It's a fantastic way to end the night.
Nicola & Rich – Woodhill Hall Wedding:
Colin and Becky the wedding ninja. There aren't enough words to say how amazing you both were throughout our entire wedding, and we've lost count of the number of times you went above and beyond just to make our day better. More than anything we want to say thank you – for making our day run with military precision, for keeping everyone (including us) in line, for trying to please the crowd and for playing totally rad music when you realised it would keep Richard "Twinkletoes" Blagg on the dancefloor. We couldn't have wished for a better MC, DJ (and assistant) and generally all round f*cking awesome people. You will both forever be a huge part of our memories of our Wedding Day. Don't be a stranger!
Zoey & Kieron – Crook Hall Wedding
In asking Colin to help with our wedding planning during 2016, he gave us so much helpful advice on how we could develop the format of our day and use a range of music choices, and his master of ceremony skills and personality, to enhance and make each part really memorable. Colin's contribution helped us be more confident in planning the wedding 'our way' to ensure it really was as personal as it could be, involving humour, nostalgia and so many personal touches throughout our day that it ended up feeling totally perfect. We wanted to have, what we described when we met as an 'informal but formal' feel which would use the best of Crook Hall and its beautiful gardens during the day and ensure we had a cracking party in the evening.  We did just that aided by some glorious sunshine! Leading up to the wedding Colin helped us develop and deliver a fantastic play list and on the day managed our music so professionally inside and outside the hall as well as providing a Master of Ceremonies role. I had not appreciated how much Colin was going to help 'glue' the different parts of our day together in his Master of Ceremonies role –  His contribution made a huge difference to the flow of the day from chatting to guests on arrival, helping with our amazing marryoke, doing a personal introduction about us to our guests ahead of dinner,  reading out comments on our postcards, dealing with the cake cutting, filming and capturing additional photos after the photographer had gone and even ensuring our dressing up box got maximum usage at the evening party – alongside effortlessly delivering the music – this left us with very little to think or worry about, so we enjoyed every minute of our day. Colin is a total professional and listened to what we as the Bride and Groom wanted our wedding to feel like, and his vast experience helped us achieve exactly what we wanted. He is professional, approachable and from our experience went the extra mile to help ensure our wedding felt unique – I would highly recommend Colin on both music and his master of ceremonies role. Thank you so much Colin
With client comments like that, the recommendation of many of the North East's top venues and a money back guarantee not only can you just not lose – but you stand to gain by having the most amazing wedding day imaginable! Get in touch now – click here for my contact page.
Here are a few videos of personalised introductions designed to reflect my clients' personalities and sense of humour.
http://https://youtu.be/PljSt7SggCU
* Money back guarantee refers to the Early Setup and Master of Ceremonies portion of my overall service. It does not apply to Ceremony cover, evening Disco or any other services. The cost of Early Setup will be clearly listed on your Booking Fee where appropriate.