Alongside Moodlighting a custom designed Wedding Monogram provides probably the biggest WOW! factor you could have at your Wedding. A Wedding Monogram is similar to a Wedding Gobo but is so much more. Living Motion Wedding Monograms and HD Static Wedding Monograms are the new on trend way to 'own' your Wedding and really personalise your venue. Popular in the USA over the past 2 years these are now becoming the new Must Have for weddings in the UK. I've been offering this service for almost 3 years now and it is becoming more and more popular. In fact, I often have to turn down bo0kings for this service as many venues just aren't suitable for it and of course it has to look amazing for your Wedding!
Gobo Projection has been around for ages and generally involves a metal (or sometimes glass) pattern which is cut or etched. This is then projected using a Gobo Projector. The top of the range ones can be powerful and effective but the majority are quite basic. The biggest issue is that unless the gobo is projected in a pretty straight line then the image is slewed and corrupted. this is known as keystone effect.
Using a powerful High Definition projector instead opens up all kinds of possibilities. Firstly keystone can be compensated for either on site or within the design itself. The photo below was projected from the right hand side and about 30 feet away. As you can see there is no keystone corruption at all as the image was actually designed with the appropriate corrections built in. You'll also notice that the image is in colour. It can even be animated, alternate with photographs of your choosing or can be designed as a looped 'movie'! For your information, the image shown below is about 16ft (5m) wide and about 8ft (2.5m) high!! How impressive is that! As the monogram is designed from scratch it can include different types of animation and opens up all sorts of possibilities for themed weddings. As well as romantic, personal and elegant monograms you could have something alternative to reflect your own tastes. A Goth or Steampunk theme perhaps, or imagine a Harry Potter or Game of Thrones inspired theme. Perhaps something which incorporates your hobbies or interests.
You can give me your ideas and let me design something from you or you can choose any design from my Monogram Design Gallery and match it with any of the displayed fonts to create your perfect combination.
I can even provide animated 'Living Motion' monograms and in the coming months will be adding photos and videos to show just how amazing this can be.
This incredible Monogram was designed for Caroline and Craig for their amazing wedding at Wynyard Hall in the Tees Valley. The final projection was some 15ft wide, 6ft high and projected from around 30ft away at an angle requiring the monogram to be tweaked to allow for any keystone effect. Along with the Pink and Blue Moodlighting it's fair to say that a 'WOW' slipped from virtually every pair of lips to enter the room!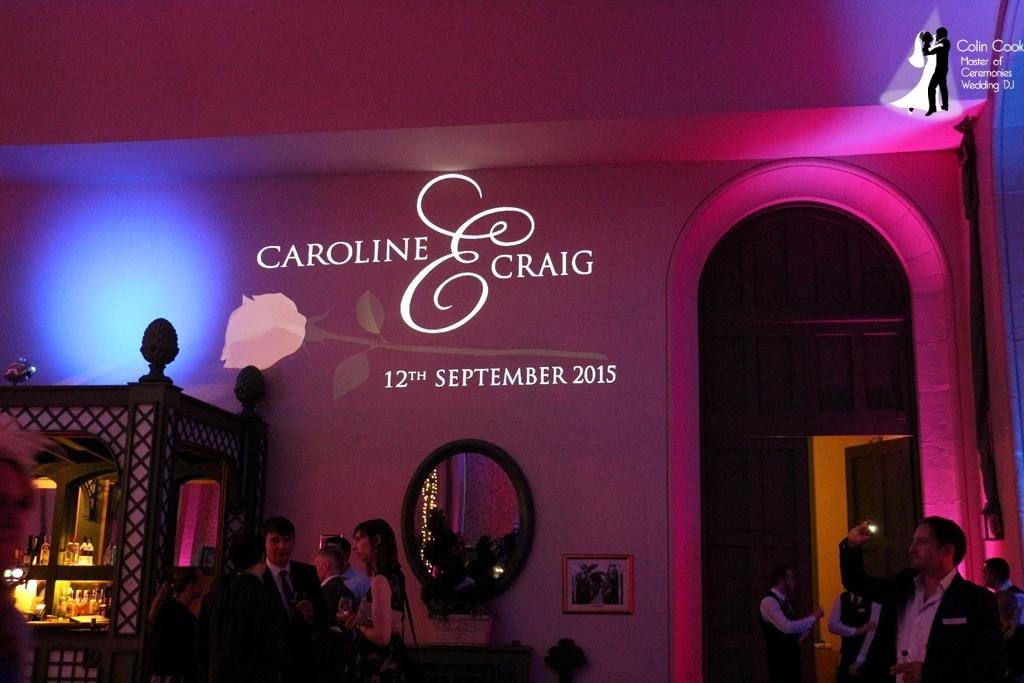 Generally this service is only available either when I am booked as your DJ and/or Master of Ceremonies or if Moodlighting is booked. I try to build as much value into this amazing effect as possible so unless you are very local to me it may prove uneconomical to supply it on it's own.
So if you'd like a bespoke Wedding Monogram (Wedding Gobo) projection in the North East of England including Durham, Northumberland, North Yorkshire or Tyne & Wear please get in touch, either by phoning or using my Contact Page here.
A Short video showing the 2 animated wedding monograms (1 for daytime and 1 for the evening) designed for Katy and Andy's wonderful winter wedding in Northumberland
This elegant static Monogram was designed for Rei and Peter who were married at beautiful Crook Hall & Gardens in Durham City. They live in Japan but Peter's family live in Durham so they had a Wedding in Japan, then another one here! I was honoured to act as their Master of Ceremonies for the day, to provide music throughout, to DJ on the night and to provide both Moodlighting and this simple, elegant Monogram. The purple moodlighting really set off the amazing stonework in the Medieval Hall and the Monogram looked amazing. Despite being a difficult surface for projection (dark, uneven stonework) my powerful full HD projector managed perfectly. There were a lot of 'Oohs and Aaahs' as guests came into the room
The monogram was designed to match both the venue (the leaves help bring the amazing garden indoors) and Rei's love of nature. To say they were taken aback would be an understatement!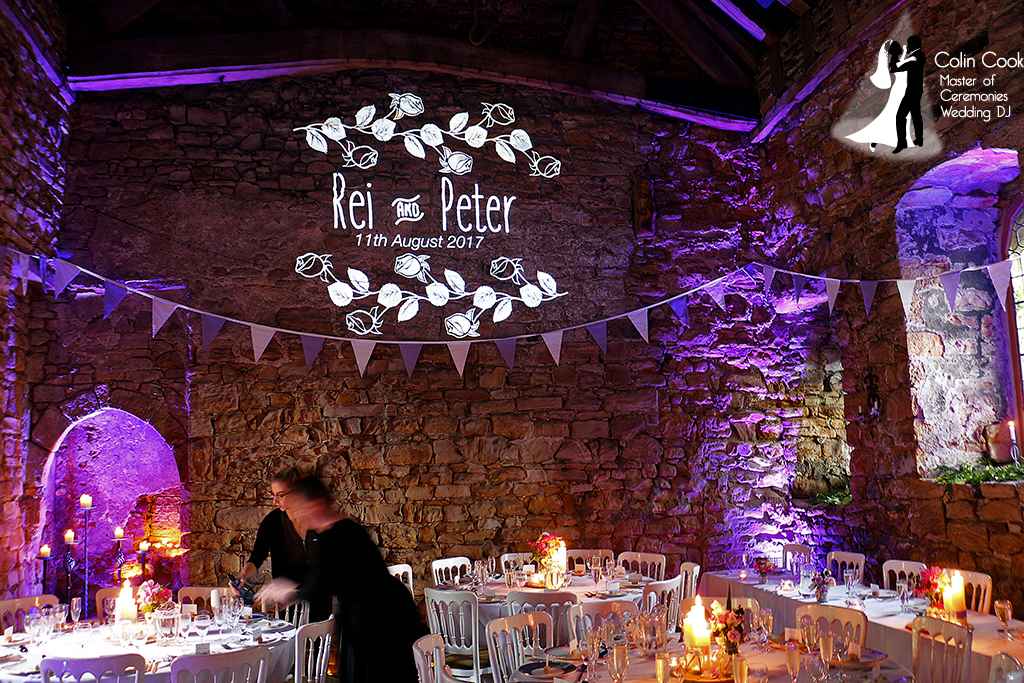 Donna and Alan were married at the Radisson Blu in Durham. The function room at the Radisson is typical of many hotels and Donna wanted something really special. She envisaged a Red theme and booked my Moodlighting in Red to match her table decorations. Her brief for the monogram was loose apart from it had to include the couple's meaningful slogan – Good Times Always. We designed the monogram to animate their names and to include falling rose petals to match the table decorations, their slogan and the ribbon. We popped over to the hotel to test it out then realised that this room, with its dark olive walls and no straight surfaces was going to be really difficult. The Hotel allowed us to use their twin projector/screen option so we redesigned the monogram for screen. It looked amazing. During the day 1 side of the room was partitioned off so the monogram displayed on 1 screen and then for the night the room was opened out and we displayed on both screens simultaneously using a media player.
Custom Wedding Monogram, Living Motion Monogram and Gobo Projection in Northumberland, County Durham, Tyne & Wear, North Yorkshire, North East England