A Wedding Day – I'm often asked about the process of planning, organising and performing at a Wedding. Each one is unique and some Couples need more input whilst others have an exact idea of what they want and don't want. So I thought I'd start an occasional series of 'Featured Weddings', each dedicated to a particular wedding.
Last Friday's Wedding was such an incredible day and the result of a lot of planning. Leanne and Lee had fantastic guests, the weather was awesome and everything ran like clockwork. I provided music for their Wedding Ceremony, was their Master of Ceremonies for the day, provided music for the drinks reception, Wedding Breakfast and DJ'd on the evening.
The morning after the Wedding Leanne phoned to thank me and said that lots of their guests had commented on the way I ran the day, the interaction with the guests, the fun, happy, relaxed and upbeat atmosphere I created and how much everyone had enjoyed it. She said she'd woken that morning and cried with happiness. I was so touched by that, and by her taking the time to phone me.
I thought I'd run through 'the process' from initial contact to the day itself, which I hope will be of some interest and perhaps help to other couples considering how to go about their Wedding Entertainment.
Leanne and Lee first contacted me back in June 2017. We exchanged e-mails and then I met with the couple at their home. We chatted about their day, their expectations, the type of atmosphere they wanted and how they wanted to feel on their Wedding Day. Leanne said they wanted an informal, happy day but with everything running properly and smoothly. She particularly didn't want her guests to feel like spectators at her wedding and wanted everyone involved and joining in. Also, neither she nor Lee wanted to feel too much 'on the spot'. We talked about different ways to involve guests, ways to keep the atmosphere lively and flowing well and strategies for different weather conditions.
Just after that I received their e-mail saying:
Hi Colin
Thank you for replying about ceremony music that would be great and we really appreciated that
Thank you for coming out too see us it was great to meet you. We would like to book you for the full day. You were very passionate about your work and have eye for detail with everything which is really important to us
You took your time come out and have chat about everything about our wedding. Your knowledge is incredible and your advice spot on about everything. We look forward to having you on our team for our wedding day
 Thank you
Leanne, Lee
Over the next 12 months we were in regular contact as Leanne added touches to the wedding. I helped her to source suppliers and was there to advise when a few supplier issues occurred. We quickly pulled everything back on track and it helped Leanne have some peace of mind.
Leanne and Lee both had some great music choices but didn't want to affect the spontaneity of the evening party so their requests were fairly minimal alongside a list of the types of things they like to dance to. They also chose all of the music for their Ceremony and made some requests for the Drinks Reception and Wedding Breakfast music.
The Couple both loved the idea of a personalised introduction prior to walking in for their Wedding Breakfast and sent me some information about themselves to work with. They also wanted some Entrance Music and chose the chorus from the Beatles' 'All You Need Is Love', for which I created a custom edit.
A few weeks before the Wedding we met up again at the venue – Saltwell Towers in Gateshead. Saltwell Towers is set in beautiful Saltwell Park and is a lovely Gothic style building on the outside and a modern, bright space inside. As the venue and Park are both open to the Public we had to very tightly plan access and setup times for suppliers as well as strategies for minimising noise from visitors. It's quite a juggling act for the venue but they manage really well.
Following this meeting Leanne and I had several chats to fine tune timings and keep everything flowing well. I then started to prepare her Ceremony (after a few changes of the music!). As the Ceremony wasn't in the same room as the evening function all of the daytime music needed to be prepared in advance and then transferred to a tablet computer, plus backups to other tablet computers. First, the Ceremony music is sourced and copied to a separate folder on my PC. Any special edits are made and then it has to be re-tagged and numbered. Once this is done the entire folder is 'normalised' to ensure the peak and minimum volumes match and then a playlist is created from the songs all in the correct order. This procedure is then repeated for the Drinks Reception and for the Wedding Breakfast. This usually takes at least a full day in preparation. For the Drinks Reception and Wedding Breakfast each song has to be chosen and placed into a smooth-flowing work order. For Drinks Receptions I normally provide 2-2.5 hours of music and for the Wedding Breakfast 2.5-3 hours, though of course this does vary. The music and playlists are then copied to various devices and backups. For this wedding 3 separate devices were needed – one for the Ceremony music, one for the Drinks Reception and one for the Wedding Breakfast. I also used one for my Personal Introduction.
After this, music choices for the evening were also checked and prepared on my main playout system. Over the next few days I worked on writing and practising Leanne and Lee's Personalised Introduction.
Then it was equipment to allocate and prepare. For the Ceremony I used a discreet Bose L1 Compact speaker, to which I connected a Shure radio microphone and mic stand (for the Reading). A further mic stand was fitted with a tablet holder for the Samsung tablet running a DJ program for the Ceremony. This system would also cover the Wedding Breakfast, the only change being the tablet being swapped out for a different one.
Outdoors we had a self-powered system for the Drinks Reception to which was connected another tablet device. And for the evening I used my normal playout system which consists of a Denon Mixer/Controller, Samsung laptop running VirtualDJ, my custom designed booth and a FBT Vertus speaker system. Lighting consisted of a Martin Wizard Extreme and a LED Wash Panel, both controlled via DMX from a Windows tablet running customised software. The Wash Panel fits to the top of the speaker, taking its power also from the speaker and controlled through a wireless interface. Really neat and smart. No ugly tripods and no unsightly cables showing.
Leanne had stated they didn't want photos taken and shared on the day, but would share some from the photographers. So the photos here are just of the setups rather than during the wedding.
So – on to the day itself!
Due to the tight logistics and timings of the day I had my brilliant assistant Becky with me. We arrived early on a gorgeous, sunny and extremely hot day, unloaded the daytime equipment and then had to move the van from the site. Setting up the Ceremony system didn't take long. Kat and her team from The Whole Sch-bang were on site providing and setting up the chairs for the Ceremony. Due to logistics and timings they were there several times, to also set up the tables for the Wedding Breakfast and the Café downstairs for the evening function.
Lee and his father Mark arrived. Mark was also Lee's Best Man for the day. We all had a chat and I helped relax them as they were both a little nervous. Once the Registrars arrived I left Lee with them to cover the legalities and started getting to know the guests. Due to the 30 degree heat I had suggested guests stay outside a little longer, where it was a bit cooler and there was some breeze. Closer to the time we had the music playing upstairs and I invited everyone to take their seats. Once Leanne arrived the Registrars went to cover the legalities with her and then it was time to start!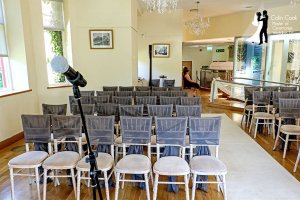 Leanne was escorted by her Godfather Ian who was also to do the Reading. She looked amazing and made her Entrance Processional to Norah Jones' cover of 'Love Me Tender' which sounded amazing on the Bose – soaring through the room and helping to create an emotional atmosphere. Leanne and Lee had written their own vows and had guests both crying and laughing. Ian's Reading of 'Wedding Day'was perfect and the radio microphone helped his voice to project clearly across the room. The Couple chose some music to play during the Register Signing, and after some lovely words from the Registrar they made their Exit (Recessional) to thunderous applause and cheering, over which soared a special edit of Natalie Cole's 'Everlasting Love'. As their guests followed and the room emptied I gradually brought the volume down so that it was always appropriate. Meanwhile Becky was in the Rose Garden starting the playlist of music for their Drinks Reception whilst Saltwell Towers' brilliant waiting staff were on hand with the bubbly!
Videography and Photography on the day was courtesy of the excellent and very professional Philip Ryott and his team, with whom I've worked many times. I had previously arranged with Phil to do any photos in front of the Main Entrance first so that they weren't hampered when we all arrived to unload. During this time the Café was being closed to the public, cleaners were in and tables being laid out. Kat was upstairs sorting the tables for the Wedding Breakfast, helped by Paul and the team at Saltwell Towers. Once the main entrance was clear we all fetched our vehicles. Becky and I were loaded in very quickly and Becky made a start on setting the disco equipment up whilst I moved the van. Kat's team brought in the flowers and linen for the rest of the day and Snaparazzi arrived with their photobooth. I've worked many times with Ross and his team – their photobooths are always spot on!
Phew – getting complicated now! I helped Becky get the heaviest gear into place then left her to carry on whilst I checked on the guests and on how preparations were doing upstairs. Paul's team at Saltwell Towers had the chairs moved and tables in place in no time at all and were doing a fantastic job getting the buffet food ready. Kat and the Whole Sch-bang team were cracking on at record pace with decorating the tables, which looked fantastic. Becky had done a great job downstairs and I helped get the last few connections made and we were actually set up and sound-checked really quickly!
Absolutely bang on time, Becky got the music on in the room and I started moving guests upstairs to take their seats. Rather than shout at everyone and then have a big queue I prefer to speak to small groups and have a more relaxed and less crowded approach. I usually go first to anyone with more limited mobility so they aren't caught up in a crowd as well as making sure they have any help they need. Sometimes it is just an arm to lean on! Once everyone was in and seated I introduced myself, had a few icebreakers and got guests relaxed and laughing. I use the time prior to this to see the dynamics of the group, those who are more boisterous, the quieter ones etc and use this to help entertain people. I also explained to guests the 'Pearls of Wisdom' cards which we had placed on the tables. These are great fun and help to keep the atmosphere going throughout the meal.
When Leanne and Lee were ready for their entrance I started with their Personalised Introduction, which got some laughs, relaxed everyone and made them feel included in the day. With space in the room being a little tight I had spoken with those on the 'Top Table' to ask them to stay seated so that Leanne (and the dress!) could get through easily, whilst everyone else was standing. The applause for the Couple was just incredible, accompanied by the Beatles' 'All You Need Is Love'. Very emotional!
Once they were seated I gave Lee a few minutes to gather his thoughts, then started with the Speeches. Leanne's' Mother Christine was first off and her speech was lovely, very emotional and had many guests in tears. After much applause and support from guests it was Lee's turn. Lee surprised everyone – most people were expecting a very short 'thank you' but he made a great speech which was funny and also emotional, and of course very well received by their guests. Then it was Best Man Mark's turn. As Lee's Dad he of course has a wealth of 'ammunition', whoops I mean knowledge when it comes to Lee! Again, his speech was really funny and he got great applause. After this I read out a few messages from those who were unable to attend.
For me, atmosphere is so important at a wedding. I don't want to see spectators – I want everyone to be involved and invested in having the best day ever. This was certainly the case today  with an amazing bunch of friends and family all joining in with giving Leanne and Lee the Best Wedding Ever!
At intervals during the meal I read out the Pearls of Wisdom cards that guests had filled in. Some of them were hilarious! This always goes down really well and keeps the atmosphere buzzing. Along with some great music the guests all had a brilliant time. The food was lovely and everyone was certainly full up! At the end of the meal Leanne and Lee cut their fantastic Cake. I staged this to be as fun and entertaining as possible and the applause for the Couple seemed to agree!
After the meal guests could explore the Park, hit the bar or just relax in the same room. There wasn't a long wait before evening guests were due, and once they started to arrive and settle in the downstairs Café which is where the Evening Function was being held I let everyone upstairs know, and gradually the Café filled up. Upstairs, the Sweet Cart provided by The Victorian Sweet Cart Company was regularly visited by the younger ones (and some not so younger ones!).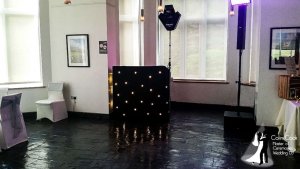 Now – Hot, Bright Summer Nights are often a DJ's nightmare as it is really difficult to get everyone inside, especially if there are a lot of smokers. Because of this and because many of the evening guests were still to arrive, I suggested to Leanne that we put their First Dance back a little so as to give everyone some time in the gardens to catch up and have a drink. This turned out to be a great idea and when we were ready for the First Dance everyone came inside, gathered around the Dance Floor and I announced Leanne and Lee into the room for their First Dance. The Couple chose Billy Joel's 'Just The Way You Are' and they surprised guests with some classy moves and even a dip or two! Loads of applause, cheering and whistles for this last formal duty of the day! The music list was centred around Motown and Disco, Classic Rock and Indie, with very little modern music being of interest to this crowd. As it was still light, early, very warm and a beautiful evening outside I had expected things to be a little quiet on the dance floor – but how wrong was I? The floor was full from the start and stayed that way for the whole night. Loads of spontaneous requests (they're the best ones!) which matched a lot of what was being played ensured that the music flowed really nicely.
Evening food was a BBQ outside. I put on some background music for a while but people ate quickly and those who were eating were mostly sat outside, so I switched up a gear and everyone was straight back on the dance floor.
Just before 10.30 I got everyone outside for a 'surprise' display of Fireworks, provided by Reaction Fireworks and set to music – a really stunning way to celebrate. Then back inside and the party really stepped up a notch right through to the end. Both Leanne and Lee were on the dance floor for most of the night – Lee especially was making some serious shapes!
We finished the night in my signature way which worked fantastically with the 3 songs chosen by the Couple – Bryan Adams 'Heaven' followed by Journey's 'Don't Stop Believin' and ending with the massive Killers hit 'Mr Brightside'.
Although I do this for a living and exclusively work in the Wedding Industry I treat each Wedding, each Couple as unique and work with them to help provide THEIR Best Wedding Ever. This wedding came together perfectly. A wonderful Couple, very much in love; their Friends and Family totally involved and invested in their day; excellent suppliers to help everything run smoothly. For me it's all about atmosphere, flow and involvement.
I hope you've enjoyed reading about Leanne and Lee's Best Wedding Ever! If you'd like your wedding to be YOUR Best Wedding Ever then please get in touch for a no obligation chat, quote or meeting.
And thanks to Leanne and Lee for entrusting me with so much of their Special Day
Colin