I'm delighted to confirm that once again I'll be attending Crook Hall's Wedding Fair to be held on 17th February 2018 from 12-3pm
It's completely free for Couples and their guests and no appointment necessary. As recommended Master of Ceremonies and DJ I'll be on hand to answer any questions about music, atmosphere and flow and would be delighted to chat with you about your special Day. For ways to have the Best Wedding Ever – a day full of laughter, fun, music and great memories pop over to see me!
Crook Hall's address is:
Crook Hall & Gardens, Frankland Lane, Sidegate, Durham DH1 5SZ. Tel: 0191 384 8028 e-mail: info@crookhallgardens.co.uk
Here are a couple of photos from the last Fair: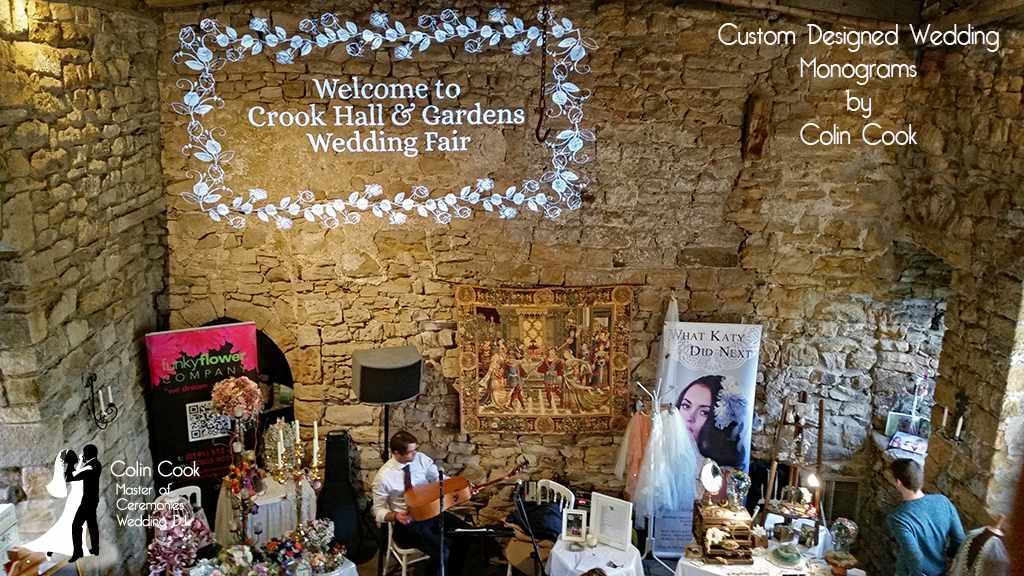 And a Testimonial from a previous client there:
In asking Colin to help with our wedding planning during 2016, he gave us so much helpful advice on how we could develop the format of our day and use a range of music choices, and his master of ceremony skills and personality, to enhance and make each part really memorable.
Colin's contribution helped us be more confident in planning the wedding 'our way' to ensure it really was as personal as it could be, involving humour, nostalgia and so many personal touches throughout our day that it ended up feeling totally perfect. We wanted to have, what we described when we met as an 'informal but formal' feel which would use the best of Crook Hall and its beautiful gardens during the day and ensure we had a cracking party in the evening.  We did just that aided by some glorious sunshine!
Leading up to the wedding Colin helped us develop and deliver a fantastic play list and on the day managed our music so professionally inside and outside the hall as well as providing a Master of Ceremonies role.
I had not appreciated how much Colin was going to help 'glue' the different parts of our day together in his Master of Ceremonies role –  His contribution made a huge difference to the flow of the day from chatting to guests on arrival, helping with our amazing marryoke, doing a personal introduction about us to our guests ahead of dinner,  reading out comments on our postcards, dealing with the cake cutting, filming and capturing additional photos after the photographer had gone and even ensuring our dressing up box got maximum usage at the evening party – alongside effortlessly delivering the music – this left us with very little to think or worry about, so we enjoyed every minute of our day.
Colin is a total professional and listened to what we as the Bride and Groom wanted our wedding to feel like, and his vast experience helped us achieve exactly what we wanted.
He is professional, approachable and from our experience went the extra mile to help ensure our wedding felt unique – I would highly recommend Colin on both music and his master of ceremonies role.
Thank you so much Colin
Zoey & Kieron XX
Wedding Crook Hall & Gardens